UUID:
vboxlauncher@mockturtl
Last edited:
1 week ago
2023-11-20, 10:04
Last commit:
[
f54a8749
] vboxlauncher@mockturtl: update es.po (#5112)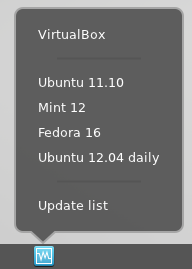 An applet to launch virtual machines.
README
VM Launcher applet
Launch virtual machines directly from the panel.
Requirements
Virtualbox or VMware Player
Cinnamon 1.8+
For compatibility with Cinnamon 1.7 or earlier, use the original version.
Usage
The list of virtual machines is updated every time Cinnamon starts. You can choose if update it again every time the applet is clicked or to manually update clicking on "Update list". The options menu is reachable right-clicking the applet.
Authors