Last edited:
1 week ago
2018-12-02, 09:15 UTC
Last commit:
[
643ef64a
] Weather applet Hungarian translation update (#2130)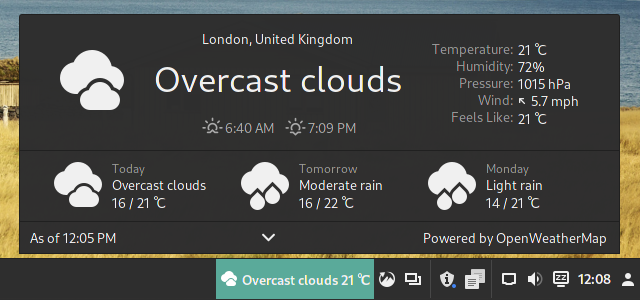 View your local weather forecast
README
cinnamon-weather
Adaptation of Gnome Shell's weather extension for the Cinnamon desktop.
cinnamon-weather uses Semantic Versioning. For the current version number, see metadata.json.
---
Requirements
For compatibility with Cinnamon 1.7 or earlier, use an archived version.
Configuration
Right-click to access cinnamon-settings -> Applets -> Configure.
Issues
Fedora 19 "Schrödinger's Cat"
A bug in this release prevents the applet from loading. See the link for the fix.