Last edited:
2 days ago
2021-01-21, 07:44
Last commit:
[
0a01c5b7
] Update po.nl weather@mockturtl Versie 2.7.0 (#3458)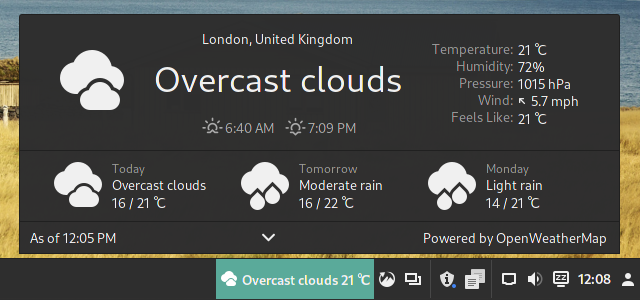 View your local weather forecast
README
cinnamon-weather
Adaptation of Gnome Shell's weather extension for the Cinnamon desktop.
cinnamon-weather uses Semantic Versioning. For the current version number, see metadata.json.
---
Setup
The applet obtains the location automatically, see below what the weather providers offer and how to obtain API keys if your chosen weather provider needs one.
In Manual Location mode the applet either accepts:
Coordinates in Latitude, Longitude format (e.g. 37.77,122.41). You can use OpenWeatherMap's finder and paste the coordinates in from there.
or an Address (it can be just a city and country, it is pretty flexible). After 3 seconds, the applet will replace what you entered with the full address what it finds so you can verify if it's correct. You can also get your exact address to enter from OpenStreetMap's Nominatim search, that's what the applet uses as well.
You can also save locations what you entered manually and switch between them in the applet (arrows will appear on both sides of the location in the applet if you have more than two saved).
They are stored in a file at $XDG_CONFIG_HOME/weather-mockturtl/locations.json or if the variable is not set, ~/.config/weather-mockturtl/locations.json. Only the text what goes into the settings entry is used at the moment, the rest of the data is just there without purpose.
Weather providers to choose from
| Weather Providers | Needs API key | Maximum Forecast Days | Maximum Forecast Hours | Required Packages |
| --- | --- | --- | --- | --- |
| OpenWeatherMap | No | 7 | 48 | -- |
| DarkSky | Yes* | 8 | 168 | -- |
| MET Norway | No | 10 | 48 | -- |
| WeatherBit | Yes | 16 | 0** | -- |
| Yahoo | No | 10 | 0 | python3-requests-oauthlib |
| Climacell | Yes | 16 | 96 | -- |
| Met Office UK | No | 5 | 36 | -- |
| US National Weather | No | 7 | 156 | -- |
OpenWeatherMap
The default, works out of the box. Big Thanks to them supporting free open source projects, like this!
DarkSky
*DarkSky has been acquired by Apple as of March 31, 2020. It does not allow new signups, and it will cease to function at the end of 2021.
MET Norway
Current weather is shown for the next hour, and the daily forecasts are generated from 6 hour forecasts, so there is a possibility that they are inaccurate sometimes.
Weatherbit.io
Needs API key. Go to Weatherbit.io and create an account. Then go your Dashboard where you should find your secret key already created.

At least 10 minutes as refresh rate is recommended, since otherwise you might exceed you daily quota.

**Hourly Weather forecast requires a non-free account
Yahoo
Current weather refreshes every 2 hours.
Climacell
API key can be obtained here. Register and the API key will be shown in the Overview section. At least 10 minutes refresh rate is recommended with a free plan.
Met Office UK
Sometimes it takes like 5-10 seconds to obtain weather, please be patient when it loads up the first time.
Only covers the UK

It uses the nearest forecast site and observation sites in an 50km area, it displays an error if it does not find any. Please open a new issue if this happens and you live in the UK! (There are much less observation sites than forecast sites.)
US National Weather
Sometimes it takes 10-15 seconds to obtain weather, please be patient when it loads up the first time.
Only covers the US

Observations are quite spotty so it combines multiple observation stations if needed in a 50km area.
Requirements
Configuration
Right-click to access cinnamon-settings -> Applets -> Configure.
Mailing list
http://groups.google.com/group/cinnamon-weather
Future Plans
None at the moment, I can take requests for provider integrations or for new features
After Linux Mint 18 EOL switch to settings-schema based location storage, not file storage.
Known Issues
Hourly forecast toggle button is not centered to the middle of the popup menu

Sunset/Sunrise is not displayed correctly if there is a mismatch between the Location Timezone and System Timezone when using Manual Location with some of the weather providers

DarkSky verbose conditions are only in cm/celsius or in/fahrenheit
Troubleshooting
Enabling debug mode
You can enable debug mode for more logging by creating a file named DEBUG in the folder of the applet here: ~/.local/share/cinnamon/applets/weather@mockturtl/, then restart Cinnamon.
See the logs producing by applets
You can see Logs by opening the Cinnamon 'Looking Glass' debugger. You can open it by Right Clicking on your Panel (taskbar), then Troubleshoot->Looking Glass
Logs can be found under the Log Tab.