Last edited:
1 week ago
2019-07-10, 19:06 UTC
Last commit:
[
c4a421cd
] weather@mockutrtl Updated metadata.json, added cinnamon ver 4.2 (#2449)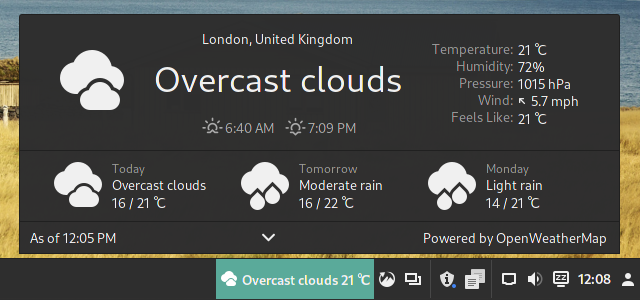 View your local weather forecast
README
cinnamon-weather
Adaptation of Gnome Shell's weather extension for the Cinnamon desktop.
cinnamon-weather uses Semantic Versioning. For the current version number, see metadata.json.
---
Setup
OpenWeatherMap API Key
OpenWeatherMap does not require API key anymore! Big Thanks to them for supporting this applet!
OpenWeatherMap Location
The following formats are supported:
Zipcode, Country Code (e.g. 94111,US)

Latitude, Longitude (e.g. 37.77,122.41)

City, Country Code (e.g. London,UK), or ZIP, Country Code
If the location you try does not work, try using OpenWeatherMap's finder and paste the coordinates.
---
DarkSky API Key Setup (Supported from Cinnamon 3.4)
Go to DarkSky and create an account. Then go your Console section where you should find your secret key already created.
DarkSky Location
DarkSky only supports Latitude, Longitude format! (e.g. 37.77,122.41)
---
Requirements
Configuration
Right-click to access cinnamon-settings -> Applets -> Configure.
Mailing list
Known Issues
Sunset/Sunrise is not displayed correctly if there is a mismatch between the Location Timezone and System Timezone when using Manual Location
DarkSky verbose conditions are only in cm/celsius or in/fahrenheit
Fedora 19 "Schrödinger's Cat"
A bug in this release prevents the applet from loading. See the link for the fix.