---
UUID: sticky@scollins
Score: 14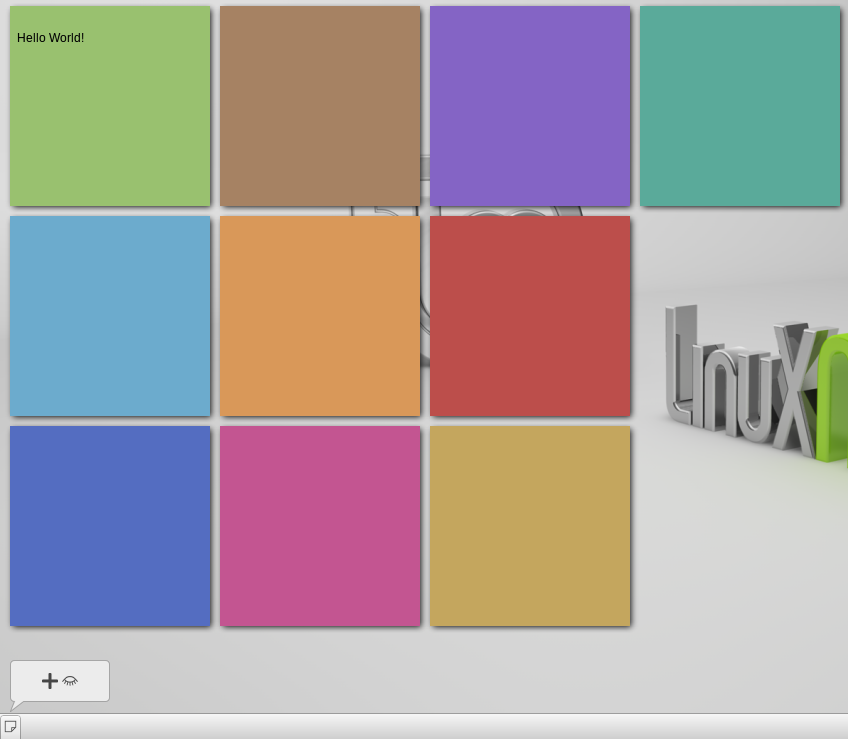 Applet that allows you to manage desktop notes
Sticky Notes applet
This applet is designed to be a simple, quick, and easy-to-use note utility. While there is some customization available, the emphasis is on making it feel as smooth and easy to use as possible.
Features
Two types of notes: standard text and checklist
Optional titles
Notes can be resized
Colors can be selected on a per-note basis
Notes can be displayed on top of windows, underneath windows, or hidden altogether
Copy/Paste supported
All notes can be backed up to a file
Known issues
Occasionally intercepts clicks through windows
Pinning is slightly buggy
---
This is what I've been missing since the old days of Gnome 2 :-)
@Sakto I believe I have now found and fixed the problem. The current version should be working fine now. Let me know if you are still having problems.
@Sakto I'm sorry you're having problems. My Linux machine is currently having hardware issues, so I can't play around with it right now, but I've made some changes since the last release, and may have already fixed the issue you are having. You can try the latest code on Github by following the website link above. If that doesn't work, any additional information you could provide (i.e. steps to reliably reproduce, anything related in the system logs, etc) will help me fix it when I get back on Linux.
When I remove a note, cinnamon crashes, or restarts. Like I did Alt+F2 and r

Linux mint 17.1

If this bug could be fixed it would be a perfect applet for me!
Thanks Juan. I'm glad you like it. I do have a lot of ideas about how to expand this applet in the future, and resizing is one of them. Unfortunately I'm really busy right now, and I'm not sure when I'll get to it, or how I'll implement it when I do. If you have an account on Github, feel free to post a feature request (use the website link above), and I'll post updates when I have them. It will also remind me that this is a desired feature, so I'll be more likely to get to it sooner :).
Hi,

This app is just perfect!!! is there any chance to implement resizing of the notes, that would be awesome!!!

Thank You
Juan
@Steven - Thanks for your reply. I understand - I hope bullets are not that difficult to implement. My To- do-lists usually are just bullet points, thought would be useful to have this in Sticky....
@anandrkris Thanks for the input. I'll see what I can do. My vision for this is a simple and easy-to-use applet, and I purposely didn't add a lot of features as I intended it to be fairly light-weight and simple. If I find a way to add this feature that works well, and doesn't interfere in any way with the regular usage I'll do it, though. If you could open an issue on github so I don't forget about it, that would be helpful :).
Awesome, thanks. Feature request - Is it possible to have Bullets & Numbering in Sticky Notes. Would be useful to have auto-numbered list.