UUID:
download-and-upload-speed@cardsurf
Last edited:
3 months ago
2023-06-04, 12:03
Last commit:
[
c0952462
] Update Simplified Chinese translations (#4879)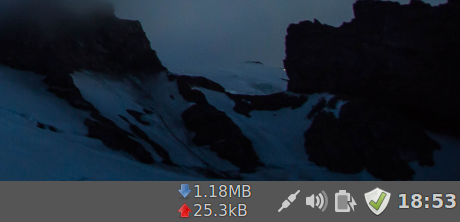 Shows usage of a network interface
README
Download and upload speed
An applet that shows usage of a network interface for Linux Mint Cinnamon
Features
Shows current download and upload speed
Shows a hover popup with total amount of data downloaded and uploaded
Opens a terminal with list of current Internet connections on a left mouse click.
Closes the terminal on the next mouse click.
Shows data limit usage

Displays a percentage of data limit usage as a circle or text
Invokes a command when the data limit exceeded

Customizable

Two GUI types
Show average speed per second or amount of data transferred
Display values as multiples of bytes or bits
Enable or disable a hover popup
Customize a command used to list current Internet connections
Download
Installation
Extract .zip archive to ~/.local/share/cinnamon/applets
Enable the applet in Cinnammon settings
Usage
To specify a network interface:
Right click on the applet
From "Network interfaces" submenu check a network interface
Source code
Browse the source of the applet in the original repository.