UUID:
CinnVIIStarkMenu@NikoKrause
Last edited:
2 months ago
2017-12-22, 14:25 UTC
Last commit:
[
36fb1b86
] CinnVIIStarkMenu: French description update (#1570)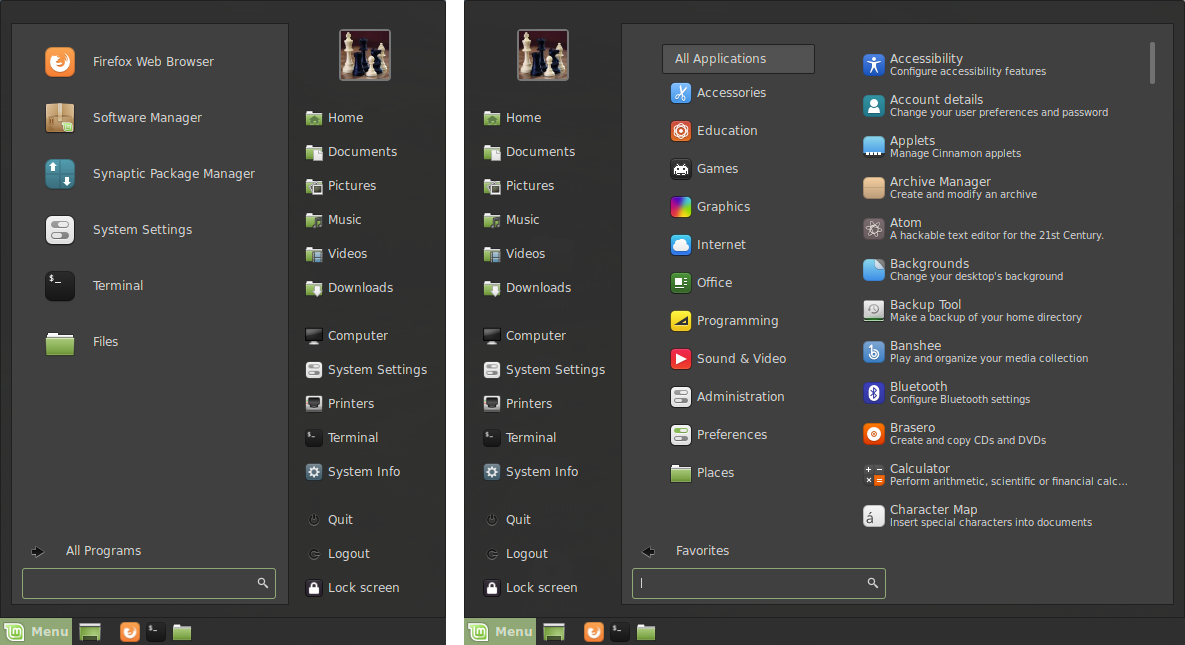 Cinnamon Menu with the look of the Windows 7 Start Menu or the MATE Menu
 CinnVIIStarkMenu
Compatible Cinnamon Versions:
✔ Cinnamon-Version 3.6 (Linux Mint 18.3)
✔ Cinnamon-Version 3.4 (Linux Mint 18.2)
✔ Cinnamon-Version 3.2 (Linux Mint 18.1)
✔ Cinnamon-Version 3.0 (Linux Mint 18)
✔ Cinnamon-Version 2.8 (Linux Mint 17.3)
✔ Cinnamon-Version 2.6 (Linux Mint 17.2)

Preview:
Click on the image below to see a review video of CinnVIIStarkMenu (previous: CinnXPStarkMenu) by Big Daddy:
Mentions:
Translation status:
View the translation status tables of CinnVIIStarkMenu. Feel free to contribute to the translations of CinnVIIStarkMenu on Launchpad or on GitHub.
---
License
CinnVIIStarkMenu is distributed under the terms of the GNU General Public License, version 2 or later. See the COPYING file for details.
Credits and thanks to:
... and also thanks to the translators:
Logo credits
The CinnVIIStarkMenu logo is a mix of the MATE Desktop logo and the Cinnamon logo.
---
History of CinnVIIStarkMenu
GitHub history:
Spices history: