UUID: Cinnamenu@json
Score: 5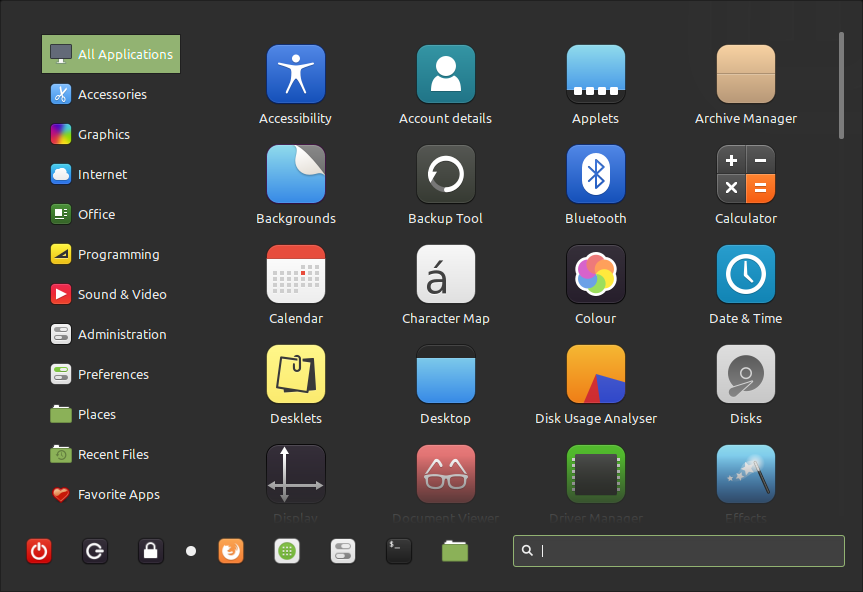 A flexible menu providing formatting options and bookmarks.
Cinnamenu
Cinnamenu is a full featured menu extension for Cinnamon. It is a fork and port of the GNOME Shell extension Gnomenu by The Panacea Projects.
Features
View apps in a list or grid.
Dedicated column for places or favorites.
Integrated bookmarks from Chrome, Chromium, Firefox, Opera, and Midori.
Search through apps, files, bookmarks, and places simultaneously.
Indicators for running apps.
Changelog
1.3.1
Removed extra tooling causing performance issues.
Fixed some Clutter errors occurring when adding/removing favorites.
1.3.0
Moved the Favorite Apps category to the bottom of the category list.
Added a feature allowing you to evaluate math expressions from the search field.
Fixed various CJS warnings.
1.2.1
Fixed the application list view having excessive width.
Refined the width for the grid at all column counts.
Fixed the search box height for some themes.
Made the applet compatible for Cinnamon Git.
1.2.0
Added ability to toggle bookmarks
Increased the resolution of the applet icon
Category buttons are now deactivated while searching
Translation file restructuring thanks to NikoKrause
Test bug fix for users encountering the menu not displaying when clicked
Fixed the menu expanding in height and width when toggled open, and expanding beyond its allocated dimensions
1.1.0
Improved the applet's memory consumption.
Search results now appear in their order of relevance, not by their type.
Search functionality now uses fuzzy search via Fusion-JS.
1.0.0
Reimplemented the context menu.
Overhauled theme compatibility.
Added a (default) option to scale grid icons based on how many apps are in the list to make the best use of the screen space.
Porting from GNOME Shell is complete, and most of the functionality is restored from the original version.
Migrated most of the styling to Cinnamon's CSS.
Todo:

Add keyboard support.
Clean up and organize existing localization files, and add new translations.