UUID:
jalalicalendar@mohammad-sn
Last edited:
9 months ago
2021-02-05, 10:39
Last commit:
[
004e69bb
] Remove icon definitions from metadata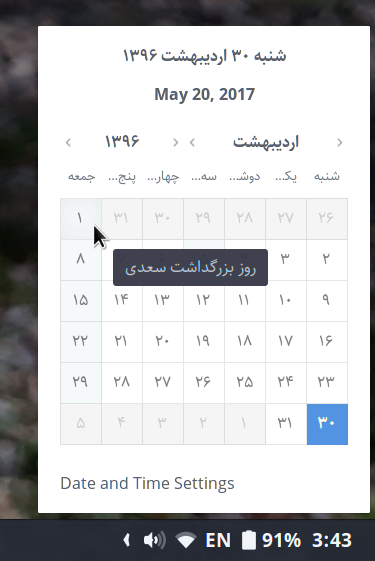 The Cinnamon Jalali (Iranian) calendar applet
README
Taghvim
Taghvim (Persian: تقویم) is a Jalali calendar applet for Cinnamon desktop. Featuring holidays and historical events included in the official Iraninan calendar, Taghvim is forked from the default Cinnamon calendar applet and has the same functionalities.
---
‫تقویم شمسی برای میزکار سینامون
‫این افزونه شامل مناسبت‌ها و تعطیلات تقویم رسمی ایران است و از آن‌جاکه بر پایه تقویم پیش‌فرض سینامون توسعه داده‌شده است، کارکردی مشابه آن دارد.