Last edited:
7 months ago
2022-06-07, 06:26
Last commit:
[
6cb6d031
] [All supported applets] Updates/Adds Italian translations (#4357)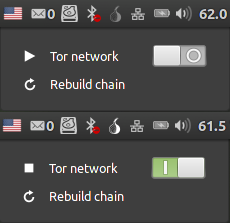 Applet for Tor network management
README
Tor Button
This applet allow you to control Tor Server (also known as Tor Expert Bundle). And you able to connect to Tor network from any browser or app. Just need set proxy settings in in the application you are using (127.0.0.1:9050 by default).
Tor Server comes with Tor Browser ( located in <directory with .sh>/Browser/TorBrowser/Tor/tor and in applet settings you can set this path to Tor) or you can install Tor Server separately from the official site, custom ppa or from official repository ('tor' package in Arch Linux, for example).