UUID:
disk-read-and-write-speed@cardsurf
Last edited:
2 years ago
2021-02-05, 09:47
Last commit:
[
67b10481
] Remove root icon.png files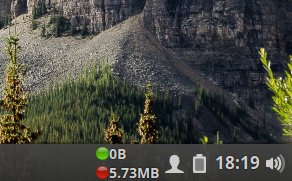 Shows usage of a disk
README
Disk read and write speed
An applet that shows usage of a disk for Linux Mint Cinnamon
Features
Shows current disk read and write speed
Shows a hover popup with total amount of data read and written
Opens a terminal with a list of current input and output informations per process on a left mouse click.
Closes the terminal on the next mouse click.
Customizable

Two GUI types
Show average speed per second or amount of data transferred
Display values as multiples of bytes or bits
Enable or disable a hover popup
Customize a command used to list current input and output information per process
Installation
Extract .zip archive to ~/.local/share/cinnamon/applets
Enable the applet in Cinnammon settings
Usage
To specify a disk:
Right click on the applet
From "Disk" submenu click on a disk
Source code
Browse the source of the applet in the original repository.