UUID:
azan@fahri.nurul.id
Last edited:
2 years ago
2021-11-05, 02:44
Last commit:
[
206bbf43
] Added setting to choose between 12h and 24h time (#3983)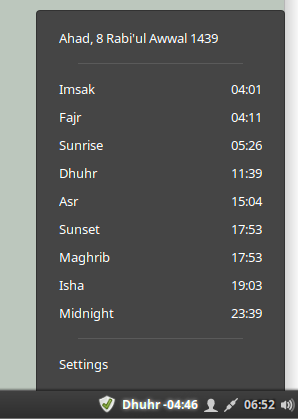 Azan is an Islamic prayer times application
README
Description
Azan is an Islamic prayer times applet for Cinnamon.
Features
List 5 prayer times + other necessary times in Islam (Imsak, Sunrise, Sunset, Midnight).
Show remaining time for the upcoming prayer.
Show current date in Hijri calendar.
Display a notification when it's time for prayer.
Installation
Download zip file and extract to ~/.local/share/cinnamon/applets OR open "System Settings" > "Applets" > "Available applets (online)", search "Azan" then click "Install or update selected items"
In "Installed applets", right click "Azan" applet then select "Add to panel"
Changelog
0.1 : initial upload
0.2 : Juristic Method option added in applet Settings
License
Licensed under the GNU General Public License, version 3
Third-Party Assets & Components
Other Projects