UUID:
rust-menu@jerrywham
Last edited:
11 months ago
2022-06-07, 06:26
Last commit:
[
6cb6d031
] [All supported applets] Updates/Adds Italian translations (#4357)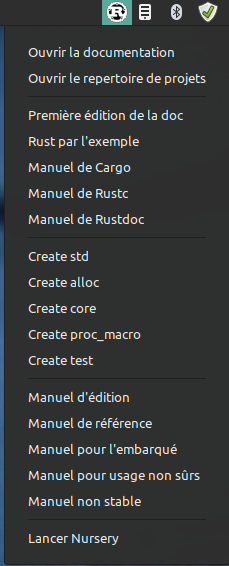 A Menu for Rust Developers
README
This is a Cinnamon applet that give you shortcuts to many Rust documentations.
Requirements
This applet requires at least Cinnamon 4.4.8 or newer. This version assumes you're using Rust 1.37.0 or later with edition="2018" in Cargo.toml of all projects to use Rust 2018 Edition idioms.
To install rustup, you have to run on a terminal :
curl https://sh.rustup.rs -sSf | sh
Then, restart your terminal.
Installation
Download and enable via cinnamon settings.
Features
The shortcuts are :
main local documentation, edition 2018
Rust local project directory. If you don't want to modify the applet, this directory must be nammed "RUST PROJECTS". If you want an other name, modify line 16 of file "~/.local/share/cinnamon/applets/rust-menu@jerrywham/applet.js". You should then restart cinnamon.
local first edition on the book
local Rust by example : learn Rust by the code
local Cargo book : a manuel to learn Cargo in depth
local Rustc book : learn the Rust programming language compiler
local Rustdoc tool : to generate documentation
Many local shortcuts to official creates : std, alloc, core, proc_macro and test (experimental API)
local Rust edition guide : "Editions" are Rust's way of communicating large changes in the way that it feels to write Rust code.
local Reference book : This book is the primary reference for the Rust programming language.
local Embedded Rust Book: An introductory book about using the Rust Programming Language on "Bare Metal" embedded systems, such as Microcontrollers.
local Rustonomicon : The Dark Arts of Unsafe Rust
Nursery inline site
//## Contributors