UUID:
kdecapplet@joejoetv
Last edited:
2 months ago
2022-06-07, 06:26
Last commit:
[
6cb6d031
] [All supported applets] Updates/Adds Italian translations (#4357)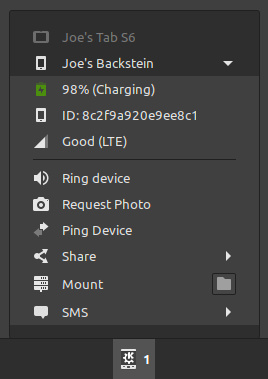 Applet for interacting with Devices connected via KDE COnnect.
README
A Cinnamon Applet for interacting with KDE Connect.
Requirements
KDE Connect needs to be installed. Zenity needs to be installed fore some features like "Send SMS" and "Share URL" to work.
Installation
Download and extract the files in the "files" folder to ~/.local/share/cinnamon/applets/.
Usage
The Applet will display all paired and reachable devices and a drop down menu for each one. The features available for each device depend on it's supported and enabled Plugins in KDE Connect.
Notes
This Applet is based on the KDE Connect Control Center Applet by Severga.
If you find any bugs, please report them