---
UUID: ScreenShot@tech71
Score: 28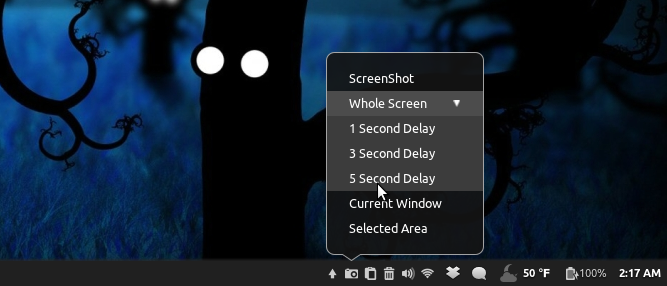 Take a snapshot of your desktop or individual windows
---
I've implemented the possibility to select an area which then will be uploaded directly to imgur and the url will be saved in the clipboard. If some1 is interested leave some comments, then I'll ask the author if I can fork this project and implement the uploading.
Just make and option to upload a photo to imageshack or some free hosting sites....its really necesseary for alot of people that need caputring shots and sending it over to a irc or for a tutorial or things like that!
Hi, nice tool. Like it. Is there any possibility of adding control over the "Print" - Key, so i can use your applet do define its default behaviour?
i don't know how i would go about doing that sorry
any possibility of adding an option to directly upload to imgur.com and then get the link?
what do you mean by settings window?
since i can't edit, i should atleast amend my statement... it doesn't seem to take pictures of settings windows.
this only seems to take screenshots of my desktop wallpaper and NOT of the windows/programs that are running above it. that can't be the intended behavior right?
1) Extract to ~/.local/share/cinnamon/applets
2) Enable the applet in cinnamon settings.
how to install this applet?
thanks billynick im changing it now
if ur still looking for a better icon, changing line 58 to 'this.set_applet_icon_symbolic_name("camera-photo-symbolic");'
makes it look like http://i.imgur.com/rr7k2.png
super work sir!
as for the icon the best ive found is camera-photo-symbolic.svg in /usr/share/icons/gnome/scaleable/devices....but it only seems to be in 16x16..i guess that can be enlarged in inkscape tho..
and now 1 3 and 5 sec delay times with drop down menu
yeah i know im working on it i think its a good idea
thanks infektedpc, ill use that. although i meant that it would be nice to have the 5 sec delay as an option in the drop down menu in addition to the standard full screen option
Hey billynick heres a modified version that uses a 5 sec delay for whole screen shots http://www.filedropper.com/screenshottech71
the recording program for the video is kazam screencaster
very nice but could you perhaps add an option to take a screenshot of the whole screen with a delay, lets say 5 seconds? this is a feature i use a lot
Nice applet. I will use this. Can I also ask what the applet you are using to record the youtube video is?