UUID:
system-controls@rcalixte
Last edited:
1 week ago
2023-01-24, 09:51
Last commit:
[
24b78437
] system-controls@rcalixte - Add Italian translation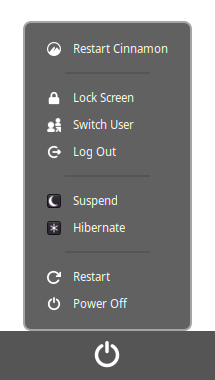 A simple system controls applet to restart Cinnamon, lock the screen, switch users, log off, suspend, hibernate, reboot, or power off the computer
README
SYSTEM CONTROLS APPLET
Minimal system controls applet for Cinnamon Desktop Environment
DESCRIPTION
This is an applet that adds an icon in the panel that provides access to the following system controls functions:
Restart Cinnamon
Lock Screen
Switch User (if enabled in system settings)
Log Out
Suspend
Hibernate
Restart
Power Off
As of now, the action executes immediately without prompt or verification.
Portions of this code were adapted from the user@cinnamon.org applet created by the Cinnamon Team.
COMPATIBILITY
This applet has been tested to be compatible with Cinnamon 5.4+.
DEPENDENCIES
This applet depends on the following packages being installed:
cinnamon-screensaver
cinnamon-session
systemd