Last edited:
3 weeks ago
2023-05-11, 12:56
Last commit:
[
73b348ab
] Updated Hungarian translation (#4845)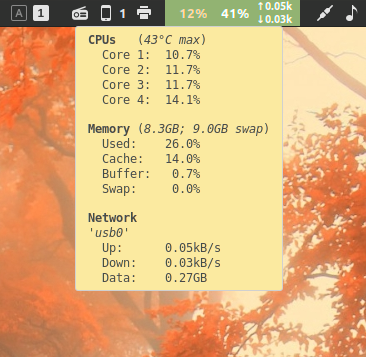 Applet to show system load and state
README
This is a simplified Cinnamon applet that provides textual information about system load and state (CPUs, memory, network). The color of the panel CPU section is changed according to the temperature of the CPU. The applet's context popup menu contains the "Clear Cache" item which clears RAM cache and buffers (be careful).
Required
gtop system monitoring library package;
NetworkManager;
Recommended
'lm-sensors' package (for CPU temperature monitoring);
gnome-system-monitor (is opened on click).
Installation
Download and enable via Cinnamon Settings or panel popup menu.