---
UUID: places-bookmarks@dmo60.de
Score: 93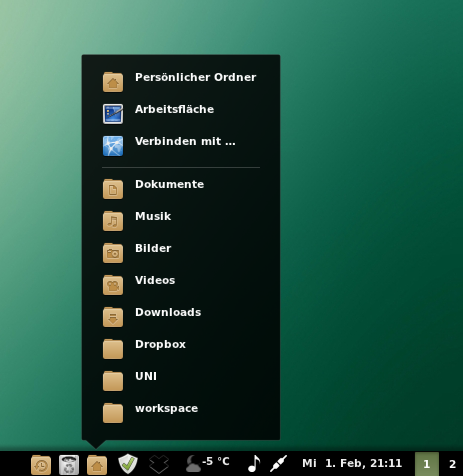 Access your places and bookmarks
This is a Cinnamon applet, which lets you access your places and bookmarks through an icon in the cinnamon panel.
Installation
1) Copy the folder "places-bookmarks@dmo60.de" to "~/.local/share/cinnamon/applets/".

2) Enable the applet in cinnamon settings. (Eventually you have to restart cinnamon: Press Alt+F2, type 'r' and enter)
Applet Style
The icon, label and menu items icon size can be modified from this applet settings found on its context menu.
---
Awesome little applet that is working great with Cinnamon 2.6.6 so far on Arch Linux!
Thank you, it's a good applet and works fine.
A new version is out where you can change the applet style (default, symbolic icon, text) in "applet.js" file.
Hi. What icon theme are you using in your screenshots? TY!
Yes, it's possible. Perhaps I can continue with some development soon, then I will try to do it.
dm060: Excellent, doesn't crash the panel and window decorations, unlike others I could mention! If someone takes it over, it would be nice to have "Recent Documents" on it as well, then I would have the Gnome2 "Places" menu. Is it possible to have a word ("Places" of course!) as the title instead of a picture?
It's Javascript. Just have a look at the code!
I've been using cinnamon for about a month and I love it!!!!!!!! and your app is really useful and bug free for the moment. Haven't had any problems. Thanks for your awesome work.

One question though, What programming language is used to buil these apps?. I really would like to make one of my own. I enjoy programing and I am currently learning python.

thanks.
Finally a small update from me after all: Now places are launched with the system default file manager (e.g. Nemo) instead of always using Nautilus. Thanks to victorstanciu who commited this fix!
great applet! Thank you, dmo60! What I missing was: 1) mounted devices; 2) open by default with nemo. I solved it adding 1) http://diffchecker.com/B9Z36cDI ; 2) sudo gedit /usr/share/applications/defaults.list and changing "nautilus" to "nemo". Could you please add 1) part to the applet.js?
Here's a zip with a mint 14 patch: https://github.com/bobbijvoet/Cinnamon-PlacesApplet/archive/master.zip
I'd like to take this over. How do I do it?
Here's a patch to open the folders with the default file manager:

http://pastebin.com/iBUCXsis
It would be nice to update it so it opens the folders with Nemo
Hey guys, I'm sorry but I won't provide any further improvements on this. I don't find the time to do it and I'm not even using Cinnamon at the moment and won't do so in the near future. So I'm dropping support for all my applets, I will only try to update my CoverflowAltTab extension from time to time. If someone else wants to continue developing it, just do so - I would appreciate it.
this is one of those applets that i use more frequently than others. great job
Hi, I just want to ask you for a little help. I follow the install instruction (wonderful simple way how to add funcionality to system :) but unfortunately I can NOT open my home folder and desktop. When I click on "them" it does nothing - other items works. Any suggestions? Anyway - thanks for a great piece of soft :)
Hi,

great applet! Is it possible to include mounted drives into the menu as well? I mean the entries which Nautilus shows under "Devices" like attached disk drives. See http://www.abload.de/img/devicesfckbf.png: I would love to have the top entries on the right under "Devices" (from the Nautilus window) show up in the places applet as well, optimally with additional separators.
I think I could add manual bookmarks, but this would lead to duplicate entries in the Nautilus window.

Thanks for making the applet!
Best
mikerofone
Sorry I forgot: To get a symbolic icon, change line 57 to ' this.set_applet_icon_symbolic_name("user-home");'
Thanks, I'm not sure if I will find the time to add a configuration option for that, but you can change the icon yourself: Open 'applet.js' file and edit line 57. You can fill in any icon name from your current icon theme.
Great simple applet!

Would it be possible to add an option to use symbolic icons, instead of the full color ones? At least for the main applet icon (user home)?
Hi Peter, I'm aware of this point as my ftp bookmars aren't visible either. But just like you, I'm no expert in Shell/Cinnamon coding (I took most of the code for my applets from existing Gnome Shell extensions) and there doesn't seem to be any documentation on this topic at all. In this case I should be able to code it myself, but I'm not sure I will do it in the near future as I'm actually not even using Cinnamon at the moment. Perhaps someone else will do it or I'll have a look at it soon.
Hi dmo60,

I have some sftp:// locations in my bookmarks file (~/.gtk-bookmarks) but they doesn't show up in the places applet.
I've tried to search back the documentation for `Main.placesManager.getBookmarks();` without success. Can you please help me somehow to make the network locations visible in your applet?
I'm willing to help in any way (including test & code) if that helps, but I'm new to Gnome Shell. ( & Cinnamon)

Best,
Peter
I have no influence on the position of the icon, but I think the Cinnamon team is working on this and in the next versions of Cinnamon you will be able to move the different applets on the panel.
thanks for the applet , very useful
but can I change it's place in panel: just before the "task list"?
thanks
To be able to open the files inside those places would be fine.
Great applet! Now I can get rid of that Nautilus launcher. :)
Oh yes, you're right... Don't know were this comes from :D I fixed it.
dmo60: Lines 46-48 and lines 50-52, you've got a duplicate for the constructor of "MyApplet". It's nothing critical or anything, but it just throws nasty warning messages at us in the console :)
Thank you dmo60, Computer is in my list now. :-)
5 stars for me too, congrats dmo60!
Thanks :) I think adding Computer shouldn't be that hard, will try to integrate that in the future. I'm not sure about custom locations, as said you can bookmark them in Nautilus, then they will appear in the list.

By the way: How is the "Score" calculated? It doesn't just sum up the star ratings, how is it done?
Thanks for this great applet dmo60!
Thank you Parallax, yes I have 5 Hard Drives and like to see them at a glance. Thanks for the applet. :-)
Sorry, I see what you mean... you can bookmark computer and it'll show up. Its location is computer:///
@Bill - Do you mean root (/)? You go to nautilus and add a bookmark. Then restart cinnamon.
Any place in the filesystem should be bookmarkable.
Awesome way to navigate quickly, can you make it so that the users can add their own custom location aka bookmark? Thank You!
Nice dmo60. Any way to add Computer as one of those "places"?