---
UUID: search-box@mtwebster
Score: 14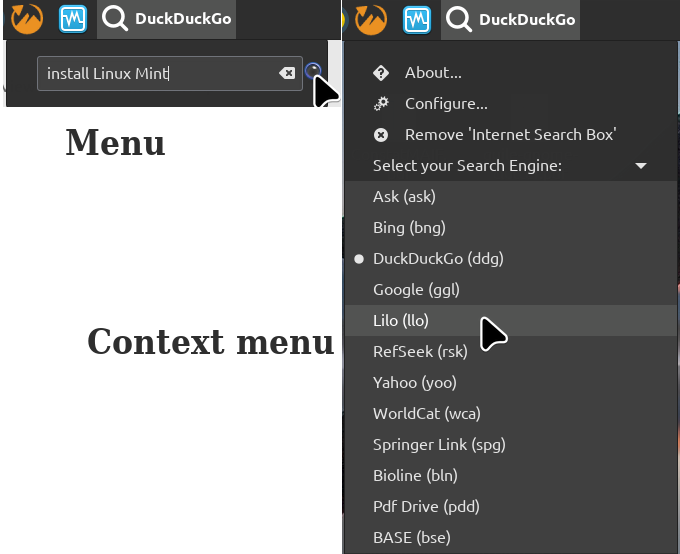 Perform an Internet search, using your favorite engine
This is a Cinnamon applet, which adds a Web Search box to your Cinnamon panel.
Left-clicking the item will open a search box where you can enter your criteria. You can right-click the applet to access additional settings - show or hide the provider label, change provider
Installation
1) Unzip, copy the folder "search-box@mtwebster" to "~/.local/share/cinnamon/applets/".

2) Enable the applet in cinnamon settings.
---
When I tried to install the latest version, it failed because it couldn't find an included module (Calendar Or similar). However, after I deleted the line responsible it all worked well. As far as I could see the only reference to the module was at the point it was included.
Upon further investigation through Cinnamon's Looking Glass, I've discovered the problem to be in the applet.js file. Looking Glass output reads as follows:

error t=2014-07-18T16:41:18Z [Applet "search-box@mtwebster"]: Error importing applet.js from search-box@mtwebster
error t=2014-07-18T16:41:18Z Could not load applet search-box@mtwebster

Can we expect a fix anytime soon or is this applet effectively retired?
Same problem as tyler. It doesn't work for me either... I can't get it to come up on the panel at all. Cinnamon version 2.2.13. "~/.Cinnamon" doesn't exist.
I installed from the Applets menu and then tried downloading and extracting to ~/.local/share/cinnamon/applets/
It sees it and "adds" it but I cannot see it on the panel anywhere!

I've got Cinnamon 2.0.14 - I don't have a ~/.Cinnamon/ directory
Great app! Is there any way to create a keyboard shortcut that will launch the search bar? If so, how would I accomplish that?
CaptainMark: Good idea - I'll see what can be done
Brilliant applet, might I recommend allowing users to tie a keyboard shortcut to it
miketwebster@gmail.com

Not sure how much I can help - I'm sort of a blind man stumbling his way through a china shop at this point, but I'll try. :P
MT, Question, would you consider helping me with something? Please email me at bendloveless@gmail.com or give me your email if so. :) Thanks.
Added some better commenting and explanations on my github:
https://github.com/mtwebster/search-box
I wanted to avoid needing that extra click to capture focus so you could start typing, otherwise I could do a 'tooltip' type thing in the text box to start out.

I've updated this applet to use a new settings provider class I made up, feel free to use it, comment on it, (or ridicule!) - it's not complete by any stretch, but a start - hopefully sometime down the road I can get it included in the Cinnamon js libraries if it passes muster.
Have u considered putting a placeholder text inside of the textbox instead of the label? Maybe with a light opacity the provider name. When User clicks text is removed. It could free up space on panel.
@mtwebster - I have been thinking of following the spec. Mozilla uses. Apps reside in system folder and user preferences and browser app data is saved locally. This makes it easier for people to install/remove things and you wouldn't need sudo priviledge. I have been thinking that on first run the app makes a directory in .local.
I made the editor use gksudo to avoid this - not ideal, but I've got the beginnings of a settings standard for applets percolating in my brain.
@bimsebasse PPA installing into /usr/share/cinnamon/applets/ might cause some problems with applets trying to write to config and properties files. Possibly the applets could still write to .local for persisting properties/config.
Try latest version - should work now regardless of where applet is located.
Ah, it's because the PPA installs into /usr/share/cinnamon/applets/ and the applet.js looks for the providers.conf in the local user directory. How do I edit this line:<br />
--<br />
const PROVIDER_FILE = GLib.build_filenamev([global.userdatadir, 'applets/search-box@mtwebster/providers.conf']);<br />
--<br />
... so that it looks in the root dir instead?
Hmm working for me in Mint 12 (Ubuntu) as well as Mint Debian - anything in looking glass?
The current version (1.3) doesn't work in Mint 12, nothing shows up in the panel.
Added to Cinnamon Extras PPA:<br />
--<br />
sudo add-apt-repository ppa:bimsebasse/cinnamonextras<br />
sudo apt-get update && sudo apt-get install cinnamon-applet-internetsearch<br />
--
Nice! One thing: there is no need for a looking glass icon outside the search field in the popup menu when there already is a looking glass icon inside the search field - it looks weird.
Nice applet. I like the way you used the BoxLayout to keep everything native Cinnamon. Very slick. I had two small issues. For some reason sensible-browser was not pulling up Firefox correctly on my Ubuntu box. I switched it to xdg-open command. Also I felt the applet takes up too much space in the panel and I commented out your label and set it to the find symbolic icon so it blends in with alternative themes better. I appreciate your work.
Bravo! I've been thinking about this for awhile. You should Make it like spotlight on the mac and have the option at the bottom/if no results "Search on *insert search engine*" I love this. thank you.