---
UUID: screen-inhibit@mtwebster
Score: 32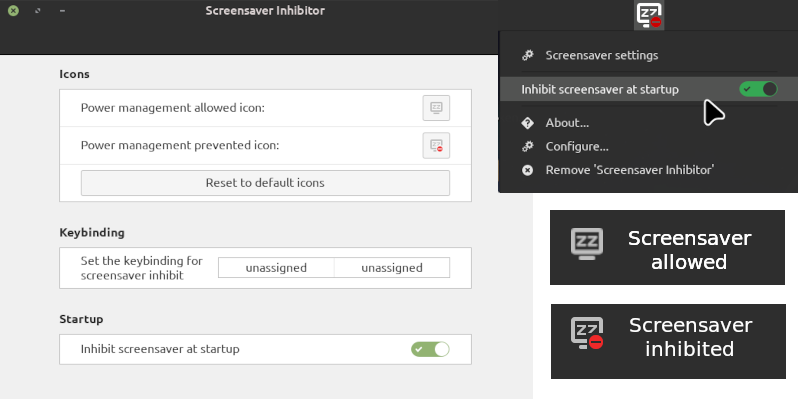 Click to inhibit the screensaver, click again to remove inhibition
---
By default, this applet uses ctrl-i as it's keyboard shortcut. This interferes with the Italics keyboard shortcut used in many other programs (Libreoffice, Thunderbird, Firefox, etc.)

Could I suggest that you set some other key as the default? Or perhaps even leave it empty.

Other than that, thanks for nice simple applet that just does what it's supposed to.
I got the 404 error when I tried to install it from the applets panel in settings after upgrading to Mint 17.1. It had disappeared from the panel after the 17.1 update. Got the same error today when I tried again. Was able to download and install manually. When I view the "Available applets (online)" screen it show that this applet has an update available. If I try to install the update I get the 404 error message again. The applet seems to be working fine and I doubt that there is really an update since I just downloaded it from this site an hour or so ago.
I get the same error on multiple 17.1 based machines, some fresh install and some upgrades, when trying to install this applet via add applets:

An error occurred while trying to access the server. Please try again in a little while.

Details: HTTP Error 404: Not Found
domey, are you running this latest version? Can you post both the full output from ~/.xsession-errors and ~/.cinnamon/glass.log? Use dpaste or pastebin. Thanks
Just upgraded to 17.1 and getting this error with the applet:
error t=2014-12-04T14:34:21.815Z [Applet "screen-inhibit@mtwebster"]: Error importing applet.js from screen-inhibit@mtwebster
error t=2014-12-04T14:34:21.816Z Could not load applet screen-inhibit@mtwebster

I cannot add this applet to the tray anymore due to this error, any help is appreciated...thanks.
Working with 2.4 now, sorry for being lazy :)
This has stopped working after the Cinnamon 2.4 upgrade. :(
yes, is there a way to use it for xfce too ??
Is there any way it's run with xscreensaver? And not only with Cinnamon screensaver?
Thanks for a very useful applet :)
Ok. I'll just have to see for myself. If it suddenly hibernates wile watching an online movie I'll just make some adjustments in the powersettings. :p By the way I've just upgraded to LM15 and subsequently cinnamon 1.8 so now I can change icon in your applet. Great! Thanx for the tip, and once again thanx for the applet. :)
I honestly haven't checked specifically about the hibernate/suspend, but I'm pretty sure it affects *all* of those.
@mtwebster - thank you! It works now, and I'm very happy. :D Yes I supose I should do that, but I tend to stick to the repositories if possible. Perhaps I should just upgrade to LM 15, then hopefully cinnamon will update too. It would be nice to know though: does this applet inhibit suspend/hibernate/power down, or is it only screensaver? If the latter I need to make some other choices in powersavings for AC-mode for my laptop... :P Regardless, I,ve given you 5 stars for an excellent applet. The ability to change icons tipped the scale from 4 to 5... ;)
@whiskytroll - I just updated again, give it a try - should work in 1.6.7 now. I would suggest though that you update Cinnamon to 1.8, then you can get automatic updating and installing applets, themes, etc.. right in Cinnamon Settings.
Thank you mtwebster for this great applet! I had a similar extension whith gnome3 and it was a great savior from unnecessary annoyance.

Unfortunatly I cant get it to work, it doesn't show up in the panel. I suppose this isn't a supportforum, and if you'd rather like me to talk to you on another channel, please let me know, I just didn't know how to contact you otherwise. I've run the commands you asked bilynick to run, whith the same output. That is - no output. :P Just as billynick I'll wait whith the rating until this is solved, if possible.

I have Linux Mint 14 Nadia 64 bits, Cinnamon 1.6.7, single top panel.

I hope this is solvable.

Regards / Jesper
Thanks for the applet! I desperately needed something like this, since the caffeine applet is really buggy in Mint.

One question: how can I go about changing the icons? The screen icon doesn't make that much sense on a laptop, and the red icon is a little too "noisy" in my opinion.

Thanks again - Andreas!
Works great, thanks! Really needed this. Only thing I've noticed is that it doesn't seem to play nicely with panel edit mode. Moving it on the panel has no effect until Cinnamon is manually restarted. (Cinnamon 1.6.7, Ubuntu 12.10, single panel on top) Minor gripe, though--the core functionality is perfect.
wait -- this only inhibits the _screensaver_, not the screen powering down or entering susped/hibernate mode?
It would be nice to include the suspend mode inhibition too. Sometimes we're playing movies connected to a TV and it's quite annoying the notebook entering in suspend mode just in the middle of the best scene.
It would have been nice to have some nice icons. Something like Caffeine: http://is.gd/bTAEJ
Added to Cinnamon Extras PPA:<br />
--<br />
sudo add-apt-repository ppa:bimsebasse/cinnamonextras<br />
sudo apt-get update && sudo apt-get install cinnamon-applet-screensaverinhibit<br />
--
My prayers have been answered!

This addition is perfect, and brings Cinnamon 1 step closer to being the perfect DE.

Thanks a lot for your work!
dude that works perfectly as far as i can tell. cant test it extensively now as im off to bed but it passed the 1 minute test! gave u 5 stars. if clem & co watching this should be instlaled by default in cinnamon. not neccesarily added to the panel by default but it should be among the default applets you can choose from in the applet selector thing!
im using mint 12 64 bit. gnome-screensaver is indeed gone from system monitor after running the first command, but that doesent prevent the screen from blanking after 1 minute so i guess its not the gonme-screensaver process that deals with this. looking at a similar applet for gnome-shell it looks like sessionmanager is involved. see the source of that applet here https://github.com/Mystro256/gnome-shell-extension-inhibit-applet/blob/d7dc0aeee2e0e1ad4c0c2470187b521e954eb791/inhibit-applet@alexjnewt.hotmail.com/extension.js - link to the gnome-shell inhibit applet here https://extensions.gnome.org/extension/233/inhibit-applet/
Strange - what type of linux is this? Mint or something else? I'm wondering what you're using as a screensaver if not gnome or xscreensaver.
gnome-screensaver-command --exit shows no results
ps -A | grep screen: no output there either
hmm weird - can you try this from a terminal (not root):

gnome-screensaver-command --exit

and then:

ps -A | grep screen

and let me know results of both
hi
you dont know how long i have been waiting for this.
however it just doesent seem to work for me... i went to system settings > screen and set 'turn off after' to 1 min...but it does turn off after 1 min...even with the red icon. even rebooted to check again and that makes no difference :(

secondly the tooltip displays 'screen-saver' when it probably should say 'screensaver'
thirdy im not sure i like the red icon..altho it does stand out

ill wait until it actually works for me before i give a rating :)