---
UUID: shutdown-timer@webum.by
Score: 11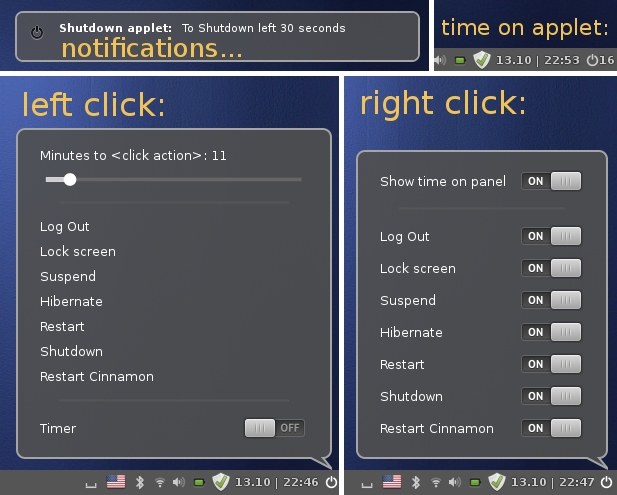 Applet to help you shutdown, restart and suspend your system with timer
---
Impossible to download it at the moment. 404 Error
Nice applet. Thanks for your work!

Is there any way to post issues? Yesterday it counted into minus (-360). Perhaps my screensaver inhibited the shutdown trigger? When I logged in, it shut down automaticly within a minute.
@ixxvivxxi, pretty useful but a little inconvenient. Thanks anyway!

@milan0markovic, you can make the time longer by changing the following line in applet.js:
this.timerDuration = Math.round(position/0.8333 * 100);
if you change 0.8333 to 0.1389 for example, then your range will be up to 12 hours.
great applet, thanks! is there any way you can make the time longer then 120min?
managed to get it to work... Very good !
GREAT WORK,
but it is not working in Linux mint 14,
can you update it please,
works perfectly in Maya
I am using it all the time, thanks.
I've got a problem: if I click on hibernation, my laptop suspends. Suspend does the right action, and I can normally hibernate through different ways, also with other applets.