---
UUID: soundBox@scollins
Score: 26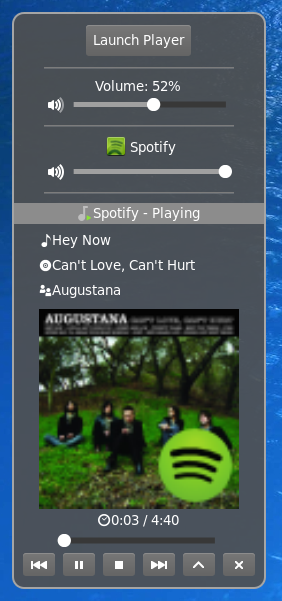 A desklet to view sound settings and manage media controls
---
@clem, I fixed it quite a while ago (see note above), but I didn't post the update here as it wouldn't work with 2.2. With the release of 2.4, I'll try to post it here soon.
Hi scollins:

Can you fix the desklet for Cinnamon 2.4? Mtwebster posted explanations about the dbus changes at http://segfault.linuxmint.com/2014/08/attention-applet-desklet-extension-developers/.
Thanks Stephen! It fixed the issue. :-) A small observation - Output / Input devices shown in right-click menu could be indented bit or themed like applet to differentiate header?
https://www.dropbox.com/s/pdqv1xtzjtwsqx5/Sound desklet.png
@anandrkris Yeah, I actually fixed that a while ago, but I've made quite a few changes, and wanted to test them out thouroghly before I posted the update here. The problem is, I've been so busy lately, that I haven't got around to it yet. I'll try to get to it soon, but if you don't want to wait, you can always download the updated version from https://github.com/collinss/Cinnamon-Soundbox. Just download the files and unpack them in ~/.local/share/cinnamon/desklets/soundBox@scollins.
Show duration in micro-seconds...Don't suppose, if it is meant to work this way ;-) ....
Screenshot below
https://www.dropbox.com/s/k1z0vg54hbnve72/Screenshot from 2014-06-15 11:02:49.png
Brahim, That looks like a lot of work. I'm not even sure it's possible to implement as a desklet due to the single-threaded nature of Cinnamon. I am planning to expand this desklet to include a mixer, or else make it a separate desklet, and I'll definitely look into this when I do, but I'm working on several projects right now, and I'm not sure when that will be.
Great desklet!! Can you please make us a pulseaudio desklet like this one http://gnome-look.org/content/show.php/Impulse+-+PulseAudio+visualizer?content=99383!!

It would be the best desklet ever made!!
Thanks a lot. Seems to work for me now!
santa_klaus, Thanks for posting. I actually fixed that bug about a month ago, but apparently I forgot to post the update here, and didn't realize it until I saw your post. Try updating to the new version; it should work now. Let me know if you still have any problems.
Hey scollings, thanks for this nice desklet. I Like it very much. One bug I discovered:
The time bar acts a little crazy. During the second song in the currents media player session it advances 2 seconds every second, during the third 3 seconds per second and so on. An example:
http://www.picamatic.com/show/2010/03/12/09/46/10063774_278x530.png
Third song during this session.
I am using cinnamon 1.8.8 on LM 15.

Greetings, santa!
arktika I'm glad you like it. I don't plan to include any third-party themes in here at this point in time. I have included the Mint and Mint-x themes by default because they will allow the desklet to blend in with the default themes. If I included support for every theme, I would spend a lot of extra time and energy on it I would otherwise spend on developing new features making new applets and desklets. In addition, it would mean a lot of extra code and options cluttering things up. I would suggest instead that you contact the developer of the theme and suggest that he/she add Soundbox support to the theme. I have a link above to a page that explains how to do so if there are any questions.
Scollins, you really become in out of series with the themes configuration. Congratulations, my respects.
great desklet!!! can you put the theme from ergo md???? thanks!!!
The stylesheet is the most time-consuming part anyway (especially since I don't know the theme). I've set it up on github with a copy of the mint theme. Feel free to update it if you want. The only thing that needs to be changed is the file mintx.css.
I don´t anything about coding.So i can only make the stylesheet for you to add as a theme to the desklet.It would be nice to add it since mint is just around the corner.
zagortenay333 I'll look into it, but I'm already working on a number of projects right now, so it might be a while (it depends on what I feel like working on at the time). If you want, you could always do it yourself and post it on github.
Hi is it possible for you to also add a mint-x theme to you desklet.I made a mint-x cinnamon theme that will ship with mint so it would be awesome to have that too!I will make the style. :)Oh and awesome that you added the ability to remove the album art!
great desklet!! i hope so to make them better and better!!! thanks!
zagortenay333, I could look into it, but I'm pretty busy right now, so I don't know when that would be. However, I suspect that it would take quite a lot of work to implement it the way you're describing, and could potentially introduce a number of bugs and limit future feature development. I think a better way of doing it would be to have a separate compact mode (separate from any individual theme), and maybe additionally, a separate option to disable the cover art.
Oh and have you thought about making a super compact mode.Just the volume sliders and a few buttons?That too would be very neat :)
Is it possible to get rid of the album cover when a song is playing?I wanted that for the compact mode.Getting rid of the cover makes up for a neat compact mode.I tried to reduce the album cove box to 0 width/height, but it doesn´t get rid of the cd icon in some cases.The icon then appears beneath the text.
By far the best desklet there is :D
@zagortenay333, first of all, I fixed the slider issue. In addition, I made some other changes and tweaks to the themes so that they display better, but in the process, it affected some of the elements that you have defined in your themes, so you will need to update them if you want it to display correctly. (This is why I thought it would be better to have a separate option for using the theme default - I will probaly be updating the themes from time to time, and even adding new themes.) Also , I will probably be updating the calculator desklet soon and it will have some drastic changes to the layout and theme.
Great desklet, congrats, very nice work!
Hey do you know if it is possible to build a meme center desklet?If so would you consider building one?I think it would be awesome having the daily memes on your desktop.Sort of like xkcd but for memecenter?
I really don´t understand the point of this theme default.If the user applies my theme then my theme will style this desklet.He then can pick between 3 mods (clean trans and compact) which my theme provides.What then is the point of theme default?Wouldn´t it make more sense if the fourth option (if at all) would be to use the desklet default theme?
@zagortenay333, I know about the slider bug. I believe it is a problem with Cinnamon, but I haven't been able to track it down yet. As for the new selectors, they are "<themecode>-appsBox", "<themecode>-appBox", "<themecode>-appIcon", "<themecode>-appTitle", where <themecode> is the code name for the theme ("soundbox" in your case). For a complete list of selectors, see the link to the guide above. The application volume control wont show up until the music player connects to the sound system. With Banshee, for example, this doesn't happen until you hit play. Also, make sure the option is still checked in settings. Hopefully that helps, but if not then let me know (preferably on Github as it's easier to track bugs there - see link above) , and I'll see what I can figure out.
Aaand another thing...I just looked into the new stylesheets and I can´t see any difference ._.What are the new lines?
Oh and i spotted another bug.When you use the slider the handle gets sort of "stuck" to the mouse.When you hover over it jumps to where the mouse appears on the slider.You gotta fix that it is a really annoying behaviour!
It seems that the application volume control doesn´t appear at all now.This morning when I tried it worked now it won´t show.
@zagortenay333, Also, I added a couple more widgets to the desklet in yesterday's update (application volume controls - not shown by default, so you will have to enable in settings), so you will need to add the corresponding styleclasses to your themes in order for it to display properly.
@zagortenay333, I decided to check out what you've done, and it gave me an idea. I have posted another update that supports an external theme. Now you need only use the "soundbox" prefix in your theme. That way the user can still use the other soundbox themes if they want to but also have the option to use the system theme. I'll see what I can do in the future about setting this as the default option if the theme supports it, but most themes don't, so I'll have to figure out a way to check first.
@zagortenay333, I'm glad you're enjoying it. I just finished it a week ago and I already can't live without it! I just posted an update which should fix the height issue with the sliders. Also, if you want, you can post your themes on github (see link above), and I'll add them to the desklet. By the way, you may want to back up the themes you made as I can't guarantee that the update process wont delete them.
EDIT: not width but height!
Btw i noticed that the slider for volume doesn´t have the same width as the slider for the song!Here: http://i.imgur.com/4TGlATl.jpg
Amazing desklet!I updated 3 of my themes so far to use it(Bauraturia, Edge and Numix) :)