---
UUID: bbcwx@oak-wood.co.uk
Score: 39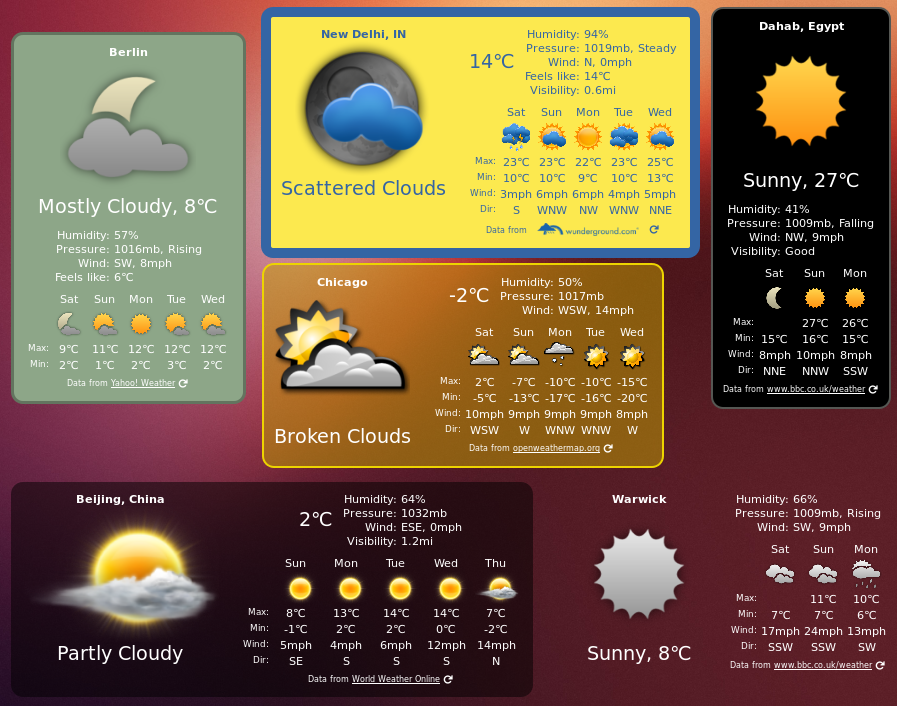 Display the weather from several web services on your desktop
---
@MintSarahUser are you sure you've left your comment on the right desklet? For licensing reasons the Weather Desklet does not, and never has, support AccuWeather. For that you need the AccuWeather Desklet (https://cinnamon-spices.linuxmint.com/desklets/view/10)
I installed this and saw I needed an API Key from WUND. I went there, logged in (I already have an account), and went to the API Key page. I checked the 3 levels out, and found that regardless of which I selected, the annual price was 0. I don't know if that's tru for everyone, but I was happy to see that. I stated the reason for the key was personal use. I don't think that mattered however.

YMMV, but I'm happy with this desklet. It's very easy to configure, even though there are quite a few options to go through. Once I got the key from WUND, the desktop began working like a charm.

Nicely done, and thank you for your contribution to the Cinnamon desktop. I use this desklet on Oracle Linux Server v7.2 OBI (Oracle Business Image, meaning it's the official desktop product we can use for our production environment in place of Windows or MAC - Oracle treats us pretty good)
after a lot of messing around, I found that AccuWeather works for USA, Type in the City, 2 letter state, USA. all the other options didn't work for me in Mint Sarah
Never mind, I got it to work with weather underground. Great widget now that I got it to work.
This didn't work with my city in Des Plaines, Il
Hi, it would be great if you can release this as applet...
Thanks!
Thanks cinnamoniker, I appreciate the feedback
Even if the Spices site fails to notify you of the comments (as all Linux Mint sites do, unfortunately), I want to congratulate you for the work on your project. I do really appreciate the translated display as well as the number of available data services together with the many configuration options.
Hi Elgigantor. You'll probably get a faster response raising an issue at https://github.com/tipichris/bbcwx/issues as I don't get any notification of new comments here. It would be useful to know what you get, what you expect to get, what data service you are using, what icon set you are using and is it just the condition's icon, or the text too? Just current condition, or forecast conditions (text for these you'll see when you hover over them). It's possible that I have incorrectly mapped one or two codes to icons, so the fullest info possible would help track this down. The other possibility remains as before that the service provider's website and API are out of sync.
Hey again. sorry to bug you but once again the "conditions" image doesnt sync with what is on the forcast.io site. i've tried rebooting and uninstalling the desklet and still doesnt update the image. all the numbers ie: temp, feels like" and such are perfect just not the current conditions. any idea's what i could do???
@jrasmussen v.2.8.6 should now use imperial units in text summaries if you are using Fahrenheit for temperature units
@tipichris i just refreshed it and even installed the updated version and everything looks good now. thanks man. keep up the good work. this is by FAR the best desklet i have used..
@jrasmussen, I have had a closer look at the issue with units in forecast.io summaries. I can solve this, but I need a way to work out which units are wanted. I'd rather not add a separate setting, partly because the setting dialogue is already cluttered, and partly because getting translations for the strings in the settings dialogue is a pain. My suggestion is we request imperial units if the selected temperature unit is Fahrenheit. Would that work for you?
Hi elgigantor

Have you tried refreshing the desklet? It's possible that forecast.io has just changed and the desklet hasn't refreshed since. Otherwise, perhaps the website and the API are briefly out of sync? I've just tried with four or five random locations and I see the same on the site as on the desklet for all.
Hey, just wondering about something.. with forcast.io the website gives the proper current conditions but the desklet shows something else. for example, right now it is snowing here. the forcast.io shows that but the desklet shows fog.
@jrasmussen,

Mmm, this is probably a bug. And not one I'm sure I have time to sort out, as it would require a remarkable amount of work. The Weather Desklet uses SI units internally. It always requests SI units from the data provider, the individual drivers pass SI units back and then conversion to the configured units is done at display time. Which generally works fine, but it seems that in certain circumstances forcast.io include precipitation amounts in their weather summaries, and if SI units have been requested, these are given in cm. Weather summaries are generally text, and we assume them to be such and do no conversions on them. Indeed, they couldn't easily be converted. The only way to get inches here would be to request *all* the data in imperial units, and then convert to SI. The current API isn't really designed to do this. So I'm afraid it's unlikely to get fixed :(
I really like this desklet, and am using the forecast.io. Everything works fine except that when I hover over the 3-day forecast icons I noticed that the precipitation is listed in cm's rather than inches. Is there any way I can change/configure that?

Thanks for any help you can give! (I'm new to Linux Mint, by the way so any direction will need to be detailed)
@elgigantor I'm happy to add any data feed that I can legally get access to without spending money, but with a quick look at the weather network site I couldn't find such a thing. It appears they offer data feeds, but it looks like a paid service negotiated with a sales team: http://media.theweathernetwork.com/web_datafeeds.php

I could potentially parse their RSS feeds (which is what I do for the BBC), but this is more complex and it's not clear that it falls within the terms of use. It is also rather limited - they give only min, max and "POP", which I presume is probability of precipitation. POP I'm afraid Weather Desklet doesn't currently handle (none of the other feeds use it), so initially I'd have to drop this, leaving only min and max.

Parsing RSS feeds has it's problems, the main one being that it relies on the feeds having a consistent format. It also requires the feeds to select weather descriptions from a limited fixed list, and I need to know what that fixed list is. To that end, if you're really keen to see this feature perhaps you could start scouring WN's RSS feeds and compiling a list of text used. Here's an example: http://rss.theweathernetwork.com/weather/caab2989
Any way you could add a feed from the weather network? it's canadas weather.com equivalent.
@Brahim - I'd love to add Accuweather, but they do not make their data available in a way which allows use. I'm aware of Accuweather feeds, but they always contain the text "This document is intended only for use by authorized licensees of AccuWeather.com. Unauthorized use is prohibited. All Rights Reserved". If you can point me to an Accuweather data source that I am authorised to use I'll happily add it.

@elgigantor - no idea I'm afraid! I just write code to make use of what they publish. Why they decide to publish what they do is down to them :)
Works great in M17. one question though.. do you know why none of the weather services give a proper "feels like" temp due to humidex? works perfectly with "feels like" for windchill but during the summer months it's not accurate.
Thank you!! It works fine on Linux Mint 17. But can yyou please add accuweather to data service? Many thanks!
Awesome desklet, really liking it except for one thing. I like to dock it in the top right corner of my screen but when the weather description changes from something short to something longer it automatically expands to the right and part of it gets cut off of my screen until I manually move it back to the left a bit. If possible perhaps a config option could be added to automatically expand to the right OR to the left side instead of only to the right? That would make it perfect to me!
@tipichris Too bad. Thanks for the kPa add.
@elgigantor WWO don't provide 'feels like' information - at least not in their free API. Doesn't look as if the premium API includes it either
on the next update could you add the "feels like" info for WWO?
i think 1008 mb is equal to 100.8kPa. not a big deal but it would be a nice addition for us Canadian folk
@elgigantor that's straightforward enough. How many decimal places would be appropriate? I'm thinking 1 - pressure in mb is rounded to 0 places and in kPa the value would be one tenth (1 mb = 1HPa), so 1 decimal place would be the same precision. That sound sensible?
Love the latest update. would it be at all possible to add kPa to pressure?
@tipichris - you did it. Now it display without that bar. And the new options are very useful. Thanks.
@tmlk - version 2.2 should hopefully resolve your issue
@anandrkris You can now configure what is displayed and what not - hope that's what you were after
@tipichris That's great news. Thanks for your help!
@tmlk I can reproduce a line, though it doesn't look quite as bad as the one in your screenshot. I've fixed what I get, which I hope will fix what you see too. The fix will be included in the next release which will hopefully be sometime this weekend.
@tipichris

I'm using Baldr ( http://cinnamon-spices.linuxmint.com/themes/view/38 )
@tmlk: can you let me know what desktop theme you are using? It seems you have a different stylesheet to me. I think I know where the problem is, but it would be easier to deal with if I could reproduce it.
Hi,

First of all, thank you very much for this desklet, simple, beautiful an useful.

I just have an annoying graphical issue.

In the screenshots at the beginning of this very page I don't see horizontal lines.

Check my screenshot ( http://imagebin.org/294697 ), why do I have that (ugly) horizontal bar/line?

Thanks in advance for your help.

Regards.
Thanks for the latest update. Great work!!!
Thanks for your reply. I didn't express myself correctly well last time.
"Openweather predicted that there will be showers today in Chennai and it did shower although it usually does not at this time of the year. So, it was a perfect prediction :-)"

Glad to know that display configuration is on your road-map.
A suggestion - Screenshot above can show display of different service providers supported by desklet.
@anandkris Thanks. I've noticed some odd forecasts from Open Weathermap too - showers and freezing temperatures in Dahab, South Sinai. Turning on and off display of some parameters is a long term plan, but I think I need to get on with some other work just now ;)
Awesome, 5 stars from me. One thing I would like to see is a configuration setting to show / hide humidity, pressure, etc. Perhaps units could be specified as N/A to hide the particular weather parameter?

P.S. Openweather predicted that there will be showers today in Chennai although it usually does not at this time of the year. ;-)
Great update!! i registered with OWM and have my own key now.

Thanks for your work....
@elgigantor OK, ability to configure the refresh time has been added in 2.1, along with Wunderground and World Weather Online data. Please be kind to the service providers servers and only reduce refresh times if you really need to - weather information doesn't change that frequently.
@tipichris I just noticed it does refresh every 30 mins or so. if i click the refresh button i can get updates like every 5 mins. is there a way to make the desklet update every 10 mins or so??? i looked through the config files but couldnt find it. any ideas??
@elgigantor refresh time is 30 minutes +/- 5 minutes (slightly randomised). If you think it isn't updating can you using lookingglass (Alt + f2, type lg) or the Cinnamon Developers' Tools desklet to view the cinnamon logs. It should record each refresh. If you're not seeing a change it could be simply that the feed hasn't changed - most weather feeds don't update that frequently. Feels Like is displayed if a backend supports it, but the Open Weather Map API doesn't return Feels Like or anything like it. Currently, Yahoo! Weather is the only backend I use that supports Feels Like.
it seems to only update when i click the refresh icon..
also. what's the refresh time while using Open Weather map??
just a suggestion. could you add the "feels like" for OWM??
Superb update - thanks. Am now using Yahoo for weather, and locations are working perfectly.
I'll look at neatening up what happens when a 'null' appears - I've just seen one in a wind direction too.
Thanks - I did see the RSS feed myself, and also saw the "null". Good to hear that Braintree is working - I'll use that as it's close enough :)
Hi mcutting

I don't think there's much I can do about this. If you look at http://open.live.bbc.co.uk/weather/feeds/en/2656194/observations.rss at the moment it is reporting the current weather as 'null'. The desklet is merely reporting what it finds in the feed. The question mark icon is the one used when the weather in the feed isn't recognised, which obviously it won't be with 'null'. You may find that the BBC's feed sorts itself out. Or try somewhere nearby. Braintree seems to be working: 2654938
Great applet. However, there seems to be a bug of sorts. For example, if I use 2656194 as the ID, the weather is not returned properly. I get a large question mark, and "null" where the current data should be. 5 stars from me - would give 6 if I could - any chances of sorting out this small bug ?

Thanks