UUID:
simple-system-monitor@ariel
Last edited:
1 month ago
2023-10-22, 14:42
Last commit:
[
45009eaa
] Updated Hungarian translation (#934)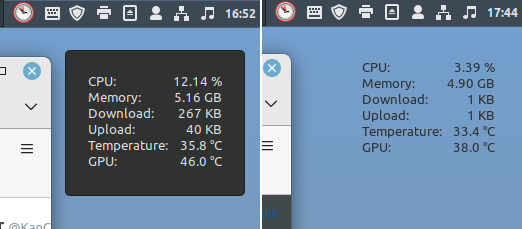 Shows some system status values
README
Simple System Monitor
Shows some system status values.
CPU usage
Memory usage
Network utilization (Download, Upload)
Temperature (CPU, GPU)
Dependencies
This extension requires libgtop in order to function.
Instructions
To install dependencies:
Debian GNU/Linux, Ubuntu, and derivatives: sudo apt install gir1.2-gtop-2.0 libgtop2-dev
Fedora and derivatives: sudo dnf install libgtop2 libgtop2-devel
Arch and derivatives: sudo pacman -S libgtop
You will have to restart the shell (Alt + F2 → r) after installing the dependencies.
For customizing the font, if the new font selection is invalid, the field will be reset to empty once closed.
Valid fonts will update the desklet immediately.