UUID:
temperature@swalladge
Last edited:
4 days ago
2023-11-24, 16:54
Last commit:
[
975cb8ee
] temperature@swalladge: update es.po (#960)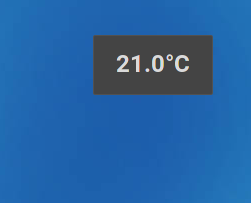 Displays the current temperature from the rpi temperature server.
README
Temperature
Copyright © 2017 Samuel Walladge
About
This simply displays the current temperature from a server running rpi-temperature-server. It was developed as an example of how the server could be used.
The temperature server in question was developed for a uni project in 2016 involving web development, a Raspberry Pi, and a temperature sensor - more info can be found on its project page.
Please contact me if you have any comments or questions! (I'm swalladge on Github.)
License
This program is free software: you can redistribute it and/or modify
it under the terms of the GNU General Public License as published by
the Free Software Foundation, either version 3 of the License, or
(at your option) any later version.

This program is distributed in the hope that it will be useful,
but WITHOUT ANY WARRANTY; without even the implied warranty of
MERCHANTABILITY or FITNESS FOR A PARTICULAR PURPOSE.  See the
GNU General Public License for more details.

You should have received a copy of the GNU General Public License
along with this program.  If not, see <http://www.gnu.org/licenses/>.