UUID:
kdecdesklet@joejoetv
Last edited:
1 year ago
2022-06-03, 06:18
Last commit:
[
c25d7fcb
] Updates Italian translations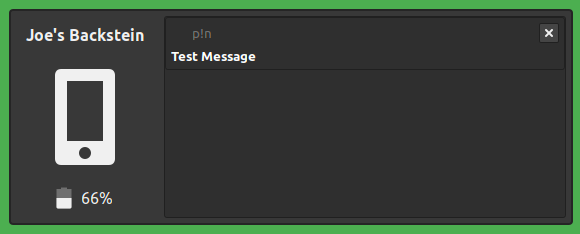 Desklet for displaying information about a Device connected with KDeConnect.
README
A Cinnamon Desklet for showing information about a Device connected via KDEConnect, like Battery Charge and Notifications.
Requirements
KDE Connect needs to be installed.
Installation
Download and extract the files in the "files" folder to ~/.local/share/cinnamon/desklets/.
Usage
Once you added the Desklet to your Desktop, right click it and select your Device from the "Available Devices" list(Paired, but not rechable devices are greyed out). After your selected your Device, you can see information about it and manage notifications(dismiss and reply to them).
If you find any bugs, please report them