Last edited:
2 months ago
2021-09-21, 06:59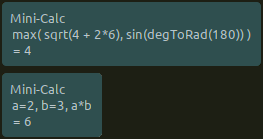 Very simple and minimalistic but yet powerful calculator that evaluates JavaScript expressions.
README
Mini-Calculator Desklet based on JavaScript Expressions
Very simple and minimalistic but yet quite powerful calculator that evaluates JavaScript expressions. The complete power of JS directly at your hand! ;-)
Keyboard Input
Keyboard input is available after the desklet was raised to top by the defined shortcut (default SUPER+C, can be changed in the desklet settings).
Features and Example Expressions
1+2 = 3
(1 + 2) * (3 + 4) = 21
All functions defined in the JavaScript Math object are included using the with statement (knowing that is not generally recommended using with in JS, but I think here it's kind of convenient).

min(1,2) = 1
max(1,2) = 2
sqrt(16) = 4
abs(-1) = 1
The trigonometric functions sin(), cos(), tan(), asin(), acos(), atan(), and atan2() expect (and return) angles in radians.
Helper functions: degToRad(180) = approx. 3.14, radToDeg(PI) = 180
random() returns a pseudo-random number between 0 and 1.
Euler's constant: E = approx. 2.718
PI = approx. 3.14159

You can define variables; this expression will return the assigned value. The variables will keep their value until the desklet is restarted:
You can use the comma , operator to evaluate several expressions and return just the value of the last one. Can be used to define variables:
For conditional expression you can use the JS ? : operator, e.g. 1 < 2 ? "that's true" : "no, wrong"
You can define functions:

fib = (n) => n <= 0 ? 0 : (n <= 1 ? 1 : (fib(n - 1) + fib(n - 2))), fib(7) = 13

You can use all builtin JavaScript functions and global objects (available in GJS / CJS), such as JSON.stringify
ToDo: Ideas for Further Development
add expression & result history as dropdown with scrollbar (on pressing "enter" + clear text input)
add action "copy value to clipboard" including keyboard shortcut; also allow copying the expression; and of course allow copying all past expressions and results from the history
add icon to open message box for documentation and introduction that explains some JS expression syntax (e.g. the examples above)
add translations (i18n)
add option to turn off to use JSON.stringify() to display results
Cinnamon Desklet Development hints
This is the first desklet and also first Gnome app I developed. It was a bit tricky for me to find helpful documentation. Here some things that were helpful for me.
source can be directly put in .local/share/cinnamon/uuid (where uuid is the UUID of you desklet)
use Cinnamon Looking Glass ("Melange") to

reload code after changes!! (tab "Extension")
see log messages

I had to restart Cinnamon in order to get the CSS reloaded, not sure if there is another possibility.
Kind of useful Documentation: