UUID:
analog-clock@cobinja.de
Last edited:
3 months ago
2018-05-14, 10:36 UTC
Last commit:
[
9046976b
] analog-clock@cobinja.de 2 bugfixes (#306)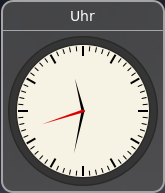 An analog clock desklet
README
CobiAnalogClock
This is an analog clock desklet for the Linux desktop environment Cinnamon (https://github.com/linuxmint/Cinnamon)
Features
Shipped with various themes
Resizable
Selectable Timezone
Themes
The folder 'analog-clock@cobinja.de' contains a folder called 'themes'. You can put your own themes in there. Hint: Use the default theme as an example. Adjust the file metadata.json in your theme accordingly, pivot-x is usually half of the width on your clock pointers and pivot-y is the length from the center of the clock.