Last edited:
2 weeks ago
2023-09-05, 21:43
Last commit:
[
ca19649b
] [Cinnamenu@json] Allow 2 search terms separated by a space (#5026)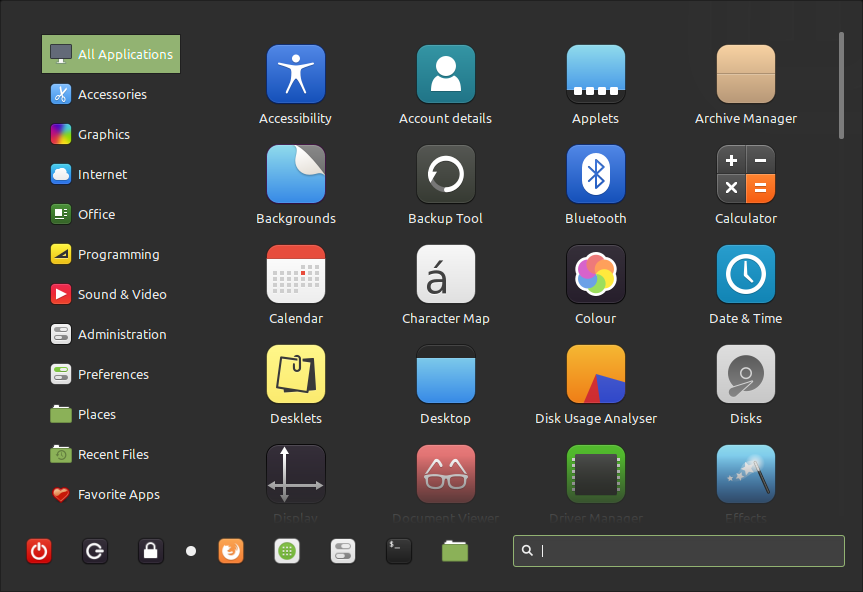 A flexible menu with grid or list layout options, file browser and emoji search.
README
Cinnamenu
Cinnamenu is a full featured alternative to the standard Cinnamon menu with grid layout and customisation options.
Features
Fuzzy searching for app names.
Filesystem browser and home directory file search.
Emoji browser & search.
Customisation options:

Resizable.
View apps in a list or grid.
Options on where to show session and favorite app buttons.
Change icon sizes.

Browser bookmarks and history search
Web search suggestions & Wikipedia search.
Built in calculator. This is evaluated as a javascript expression so all javascript operators and Math functions are valid, including constants: E, PI and functions (trig) sin, asin, sinh, asinh, cos, tan, etc. and cbrt, exp, floor, log, log10, pow, random, round, sqrt, etc. All angles are in radians. (see here for list of operators and here for list of constants and functions)
---
Key navigation (optional)
Return/Enter — Activate currently highlighted item (same as left clicking on item.)
Ctrl-Enter/Menu key — Open/close context menu of currently highlighted item.
Arrow keys/pg up/pg down — navigate between items.
Tab/Shift-Tab — navigate between apps ⇨ categories ⇨ sidebar.
Esc — Close menu or context menu.
Expert features (optional)
Shift-Enter — Run currently highlighted application as root user.
ctrl-p — Open launcher properties dialogue of currently highlighted application.
Ctrl-d — Open .desktop file of currently highlighted app in default text editor (opens file in user mode.)