Last edited:
4 days ago
2023-11-24, 16:47
Last commit:
[
fab60e92
] sound150@claudiux: update es.po (#5138)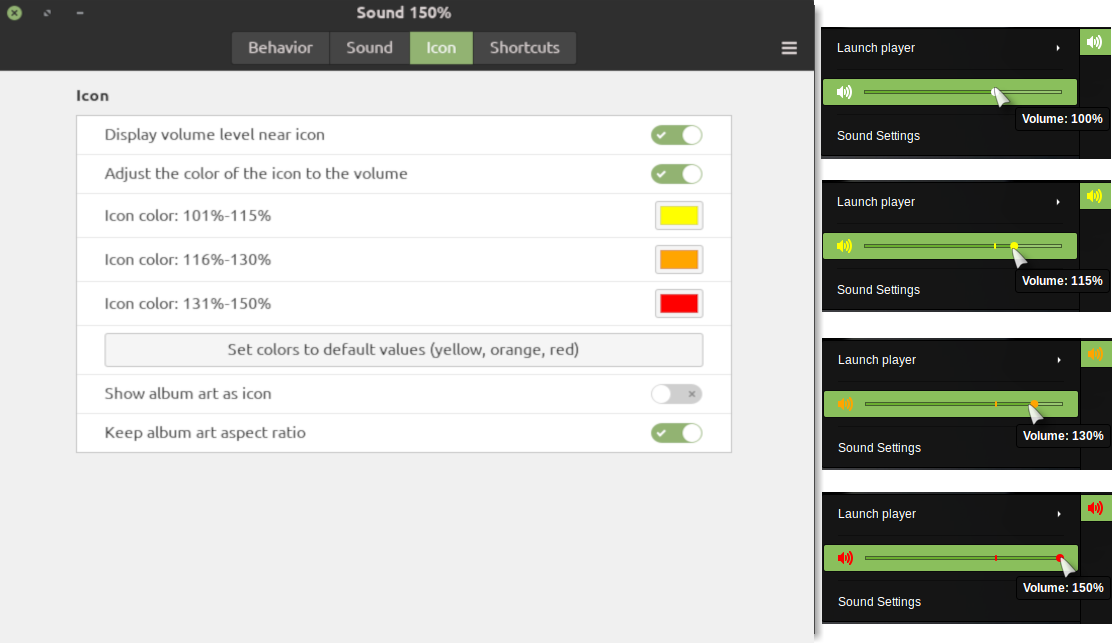 An applet, based on the Cinnamon one, to control sound (up to 150% of nominal volume) and music
README
Sound 150%
Summary
This sound150@claudiux applet is an improvement of the sound@cinnamon.org applet.
An option allows you to control the volume up to 150% of its nominal value.
The icon and the slider are coloured according to the volume when it is greater than 100%.
A mark on sliders signals the '100%' position of volume.
From 0 to 100%: standard icons.
From 101 to 115%: yellow icon.
From 116 to 130%: orange icon.
From 131 to 150%: red icon.
Note that the icons are those of the system.
An option in settings allows you to don't display colors.
Usage
In the settings (accessed by right-clicking on the icon), the Maximum volume control option sets the percentage of nominal volume you want to limit the maximum volume. Possible values are between 30% and 150%. From Cinnamon 4.4, Cinnamon Settings are used to set this value.
Use with caution. Above 120%, saturation can make the sound very unpleasant, even agressive.
In a meeting room or classroom, it is often useful to be able to increase the volume beyond 100%.
On the computer of a child, reduce the maximum volume possible to take care of his hearing... and yours!
You can also choose the value of incrementation/decrementation (+/-) of the volume (in % of nominal volume).

If you don't want colors, an option allows you to keep the standard color.
Cinnamon versions
Tested successfully on Cinnamon v2.8 to v5.8 (Linux Mint 17.3 to 21.2).
Does not work on Cinnamon prior to v2.8 (Linux Mint prior to 17.3).
Themes
Tested on themes :
Cinnamon
Carta
CBlack
Graphite-Zero
Linux Mint
Mint-X (all themes)
Mint-Y and Mint-Y-Dark
Modern-Mint-2017
New-Minty
Numix-Cinnamon and Numix-Cinnamon-Transparent
Spider-Void
Void
Zukitwo-Cinnamon
Translations
The Sound 150% applet is designed to allow translations of some messages (initially in English). A .pot template file is available, you can use it with software such as poedit to translate these messages.
The installation of the available languages is done automatically.
Many thanks to all of the translators!
Any new translation is welcome.
Contributors
Many thanks to Rodrigo-Barros for his patch allowing to show the Spotify-player album art!